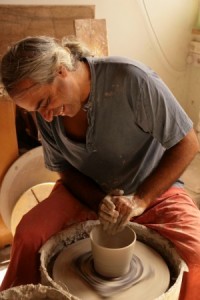 I am a ceramic artist who's been wood-firing for many years. My Anagama kiln is located next to my studio in Pardes-Hanna, Israel. I juggle between my profession as an accountant, and my passion for ceramics. My works are exhibited in Israel and abroad, and I have participated in several workshops.
I annually fire all my new pieces along with those of other fellow artists who I invite to join me in the Anagama adventure. The Anagama firing is an ancient Japanese wood-firing method, which has been in use for the last seven hundred years. In this fascinating work process of creation, the pots are gradually exposed to temperatures of up to 1,300°C, for 5-6 consecutive days.
This unique and ancient technique creates magnificent ash glazes, formed by the direct exposure of the smoke, fly ash and wood-coals . This clay metamorphosis creates astonishing natural glazes.
The size of my Anagama kiln is about 9 meters in length, 1.8 meters in height & width, and contains approximately 25 tons of bricks.